Digital Transformation
Business today as we know is being re-modified. Digital technologies have rapidly changed the way how businesses function.
Businesses are progressively trying to deliver a greater and unified experience to all their digital customers and thus trying to improve customer satisfaction.
The rapid increase of mobile devices, knowledge of consumer needs which is powered by analytics and the emergence of cloud has created ample opportunities and challenges to businesses.
Companies are trying to modernize and grow to cater to the constant changing consumer presences and product evolution. In this win-win situation, Digital transformation means that companies should embrace a holistic methodology with all facets of their business with regard to employees, customers and beyond.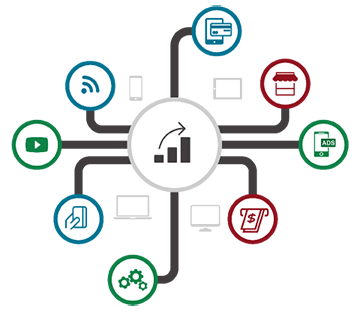 Digital disruption imposes great demand on IT systems and companies, organizations need to consider a holistic approach for upgrading and managing business technologies.
Based on new emerging technologies that is driving enterprises to reimagine their business process through the fourth Industrial revolution.
Affluent's digital transformation services are based on a wide range of digital technologies to help companies improve products, services, enhance customer experience, increase revenues and enter new markets.
Affluent Global Services is One of the Top Digital Transformation Company in India
1.What are the types of digital transformation?
Digital transformation is a chain of activity linked in the transformation of human livelihood. Digital transformation in an organization can be classified as process, Business Model, Domain & Cultural transformation.
Corporate focus on organizational transformation and not digital transformation as a fact they do not utilise all the positive advantages of digital transformation.
Process Transformation focuses on new methods and uses technology to reduce cost and improve quality. There is a great transformation in the food industry, Where the entire process from ordering to delivery of cooked food is done online and follows a process.
Business Model Transformation unlike process transformation focuses on the fundamental building blocks delivery value in a specific industry. This focus on digital transformation from traditional business models. Ex: How movies are distributed on OTT platforms.
Domain Transformation focuses on different online market domains where new technologies and services go beyond the industry boundaries. Domain transformation focuses on online mega retailers and has shown significant company growth.



Cultural Organization redefines the framework of digital transformation for long term cultural transformation make digital transformation flexible, discussion making decentralized
2.What is an example of digital transformation?
A great digital transformation was found during the covid 19 Phase, where every form of transaction, Buying & selling happened online. Every Phase of digital transformation happened then Cultural, domain, Business model transformation and Process transformation. The industry adapted to the quick change and focused on profit, survival, employees and their families
3. Digital Transformation strategy
The process of improving everything related to the physical environment of an organization is digital transformation strategy. It acts as a plan for using digital solutions to improve the physical environment and make the organization profitable.
The road map can be developed for long and short term goals. Since every business is different the road map/plan go side by side for digital transformation
4. Digital transformation in simple words?
Digital transformation as it says, it's the process of business transformation with the help of technologies. Before we could get on to the current level of Business and technological intelligence, no one can deny that there haven't been any business transformations, but here we get the current futuristic technologies to help define and /or define the Business model or process. "A New Road Map for Success".
5. Why is digital transformation so important?
Digital transformation is an integration of digital technology to all streams of business, as defined early it's more of changing how an organisation operates and delivers value to customers. The cultural change helps the organization to adapt to experiment and failure.
It is more precisely evident after the post pandemic era that in the years to come technology is not just a choice, but a fundamental business strategy that must be interwoven into every part of an organisation. Transformation can enable better collaboration within an organisation, better personalised ways of customer engagement, instigation of employee innovation, productivity levels, and more accurate insights from data/facts/metrics. All of these help an organisation to grow, explore potential business strategies of thriving post-pandemic.
6. Why is digital transformation called DX?
Digital transformation has been there from the time Greeks spelt Christ as Xristos. Medical terms take up abbreviations that use the first alphabet followed by X. Transformation or to be more specific Digital Transformation is loved to be seen as Digital Experience our human race can get to experience in their life span.
To be more mathematical, "Dx" is an infinitesimal change in x. We can think of "dx" (read as dee-ex) as an infinitesimally small change in x. The "d" in "dx" should remind you of a delta ∆, which is the symbol for change. "Dx has no numerical value.
7. What is the impact of Digital Transformation?
Digital technology has grown tremendously over a short period of time transforming business with the help of technology. By applying new technologies to radically change processes, customer experience, enhancing connectivity, financial inclusion, access to trade and public services, technology can be a great equaliser. Digitization reduces unemployment and improves quality of life. Digital technology has brought transparency and efficiency.
8. Why do banks need digital transformation?
Digital transformation allows financial institutions to know what the people's need (in terms of financial expectations/want). Which helps the financial entity to formulate their financial services and offer according to customer requirements rather than follow the age old process or rather guesswork. Customer engagement is strengthened by offerings that are personalised.
9. How is digital transformation success measured?
Digital transformation is a challenging initiative. According to McKinsey's Digital Quotient analysis, less than 15% of organizations using financial Key Performance Indicators (KPIs) are able to accurately quantify the ROI on digital transformation's success rate. The best KPI's to measure is the active usage of your digital assets. It can be done by comparing the number of transactions/ Product sales, Business Success rate pre vs post transformation
KPI's to measure Digital Transformation Process are:
Measure the number of users relative to the number of transactions/sales/services timely success rate.

Analyse the breadth and limitations of usability both by the customers and service providers.

Count of processes performed on new software.

Productivity indicators.

Amount of new revenue attributed because of digital investments.
10. What is the biggest change in society due to digitalization?
Digital technologies have advanced more rapidly than any, especially during the impact of Covid. Information has become digital in all aspects. Common measures of success are wealth, job title and happiness. Measures of success in the right form help you to use time meaningfully. If success is not measured truly then getting it will be difficult.
Digital transformation has become a major topic in the education sector. As educational institutions have incorporated technology into their classrooms, automated, online learning platforms have gained popularity. However, more and more, the schools themselves are also adopting technology, including automation.
According to Gartner, by 2020, more than 50 percent of the world's transactions are expected to be conducted without human interaction. Along with this shift to automated, online learning platforms comes a new environment for education. As schools become more automated, teachers must adapt their teaching styles to meet the needs of their students. Students, too, must adapt to this new environment.
With increased automation, the educational system becomes more flexible, giving students and teachers more autonomy. In addition, technology allows students to interact and collaborate with their peers outside of class.
However, as schools become more automated, students may find themselves more isolated from their peers. Additionally, with automation, teachers have less time to spend with individual students, which can limit opportunities for students to ask questions, seek advice or participate in class discussions.
Digital transformation can also change the way teachers interact with their students. With automation, teachers must become more tech-savvy and incorporate technology into the classroom. This, in turn, will require teachers to become familiar with numerous platforms and programs.
All of this means that teachers will need to develop new skills. Today's teachers often go back to school for graduate degrees, while some go to certification programs to obtain practical hands-on experience.
Additionally, teachers will have to find a balance between teaching technology and teaching traditional subjects. For example, educators must teach students how to analyse data but also teach them that the data is not the end-all-be-all. In the end, digital education

Advantages of Digital Transformation:
Digital technology is passing through every bit of our lives, along with home, business, industries and the society, creating new innovative forms of value and transforming the way we do everything.
"This is how we walk along with our clients to help them reach to a DIGITAL TODAY"
Enabling Digital Transformation
Enabling digital technologies helps companies create a personalized experience for their customers, increases their brand visibility and helps them reach a wider target audience.