Business Intelligence (BI) Consulting Services
Our Business Intelligence solutions and implementation services help enterprises uncover and decode patterns, relationships, trends, irregularities from internal data assets often in combination with external data sources.
Our BI solutions are designed to drive improvements in business processes, enhance performance, empower users to generate desired reports, run their own queries, conduct own analyses share insights and collaborate with peers.
BI & Data Analytics are on the top priority for organizations. Affluent extensively works with its clients to build intelligent decision making leveraging the leading BI products.
Affluent Global is one of the Top Business Intelligence Service Provider in India
What is Business Intelligence (BI)
Business intelligence (BI) is a broad term referring to a variety of tools that give business users access to a variety of data. Business intelligence tools can help businesses manage a large volume of data, identify trends, uncover patterns, and forecast future results.
Sales and marketing
Sales and marketing executives use business intelligence tools to analyze marketing campaigns and sales, track customer buying patterns, and locate and target potential customers.
 Customer service
Customer service representatives use business intelligence tools to track customers' activities and comments, identify customer complaints, and route those complaints to the correct departments for resolution.
Operations
Operations executives use business intelligence tools to monitor production levels, predict future production needs, and predict potential bottlenecks.
 Finance and accounting
Finance and accounting executives use business intelligence tools to analyze historical financials, forecast future financials, and audit financial processes.
 Business intelligence tools can be deployed on-premises or in the cloud. The on-premises deployment method requires businesses to purchase and install software on their computers. The cloud-based deployment method requires businesses to sign up for a monthly subscription.  The cloud deployment method allows businesses to access business intelligence tools from a variety of devices, such as laptops, tablets, and mobile phones.
Business intelligence (BI) is a method of obtaining information to help make better decisions. BI uses data analysis, databases, and software tools to help a business identify market trends and opportunities, identify areas of weakness, improve customer service, and increase sales. BI tools can include data mining, data modeling, and predictive analytics.
 Data analysis is the process of taking raw data, such as sales figures, and using it to make business decisions. Data analysis often includes data mining, which is the analysis of the patterns that appear in data, such as customer buying habits or employee performance.
 Data modeling is the practice of organizing data into a structural or conceptual model. A data model is a tool that describes the structure and characteristics of data. It describes the data's attributes, relationships, and components, and explains how the data can be used.
 Predictive analytics uses data mining, data modeling, and statistical analysis to predict future trends or events. Predictive analytics uses statistical, mathematical, or machine learning techniques.
BI tools are often integrated into a company's business systems, such as customer relationship management (CRM) software and enterprise resource planning (ERP) software. This integration of BI and business applications is called business intelligence software.
What are the roles of Business intelligence?

Business Intelligence is the process of analyzing data. BI uses a wide range of tools and technology bases on way data is organized and also works till the report is generated and analyzed.
For the successful BI the organization of data must be strong, from data collection, data storage, data analysis, Data reporting.
Example: If a large number of users are using the same web portal then, BI can be used to track potential customers, Valuate your business benchmarks, Valuate marketing campaigns and generate report.
Business Intelligence BI: is efficient for many reasons:
Focused planning and analysis

Great improvement in accuracy

Plays a vital role in sales and forecasting

Works with better pricing and offer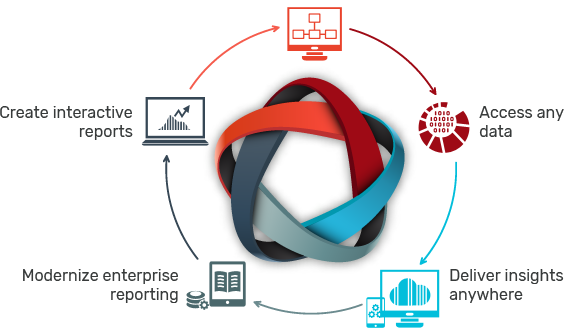 Business Intelligence Consulting Services in India
Our Expertise in Business Intelligence (BI) Consulting
We work with enterprises to device business intelligence solutions leveraging the complete benefits of modern BI platforms.
Data Visualization
Process & Performance Dashboards
Enterprise Reporting
Business Intelligence (BI) Platforms
Data visualization
Microsoft Power BI
Tableau
MicroStrategy
QlikView
Kyubit BI
Sisense
Oracle BI
Microsoft SQL reporting services
Microsoft Excel
Custom front-end development