#SocialCEO
#ThoughtLeadership
#BeingSocial
It is no longer enough for a CEO to sit in the corner office with a spectacular view, fulfilling his/her responsibilities interacting only with the immediate team with no social interaction. Analyzing from the current happenings, social savvy CEOs have a competitive advantage as they stay wired for business judgments, build trusted communities and importantly boost overall brand building for the organization than their non-social counterparts. When socially active CEOs voice out as thought leaders, they will have that very reputation flow back into the organization that creates a positive impact on the employees.
Both personally and professionally, a CEO leveraging social platforms has proven to be stronger than his/her non-social peers in empowering others, influence, compelling communication, decision-making, cultivating networks and passion for results. In a study by DDI (a big data compilation comprising 15,000+ assessment participants, 243 CEO candidates assessed for CEO position), the breakthrough report "High Resolution Leadership" illustrates the following: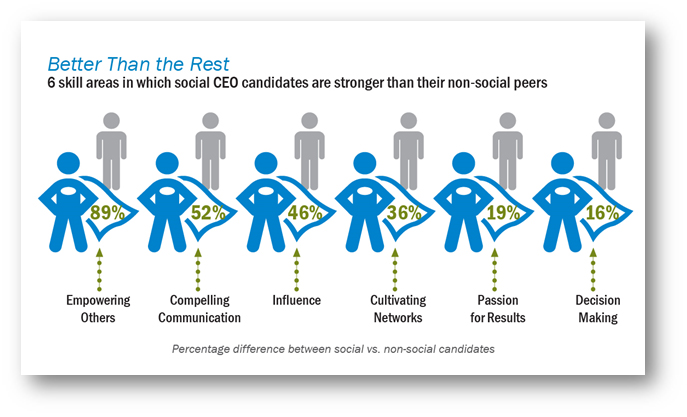 A recent study from The Holmes Report has also interesting facts to learn about the CEOs being visible and social.
The audit investigated the reach of the online engagement for both public and private CEOs assessing the following:
Visibility of CEO on the company website and social media
Posts from the past 1 year where the CEO is visible
Dialogue from the past 1 year between the CEO and website visitors
The findings are surprising.
CEOs excel in online presence, but they do not make extensive use of the digital platforms
Less than 4 in 10 CEOs (38% each) have posted online in the last one year
22% of the public company and 34% of private company CEOs interact online within the past year
50% of public company CEOs and 59% of private company CEOs are active on social presence
90% of visibility of public company CEOs is through their website and the proportion is 66% in case of private company CEOs. The numbers are worrisome as this indicates that the audience reached is not diversified with a smaller footprint on digital platforms.
It is inevitable that socially active CEOs attract the bad attention from competition, employees via negative reviews and feedback. In an attempt to respond to such events, executives run the risk of sharing information or views pertaining to the organization, jeopardizing the confidentiality of a process or policy. The possibilities of such unfortunate events are limitless and CEO would need strong PR to mitigate the risks. For a CEO, managing the personal and organization branding, in situations like this will put their official capacity to test.
In an interview with Economic Times, Sree Srinivasan, Dean of Student Affairs, Columbia Graduate School of Journalism said the executives should remember the following tips while managing their social presence for better results.
Listen to social media activity
Connect with consumers
Connect with your clients
Build value of the organization
Be a PR face
Indian CEOs have been digitally active reaping many benefits and it becomes a proud moment to us when Anand Mahindra, Chairman of Mahindra Group with almost 6.8M followers on Twitter ranked among Top 3 #SocialCEOs in the world and was the only Indian to feature in the global ranking. Virgin Group Chairman Richard Branson was No. 1 followed by Jeff Weiner, CEO of LinkedIn at No 2. The rankings were not just based on the content or the volume of followers but also on the originality of the content and the positive impact they created on the corporate world. Industry has favored CEOs who actively and consistently contributed to the leadership agenda and to social media over time.
Besides Anand Mahindra, Harsh Goenka (Chairman - RPG Enterprises), Uday Kotak (CEO – Kotak Mahindra), Kiran Mazumdar-Shaw (Chairperson and Managing Director of Biocon), Anil Agarwal (Executive Chairman - Vedanta Resources Limited) are few other Indian CEOs who have built a brand and gained trust in them and their companies.
The conclusion is very clear: Every leader determines the Return on Investment (ROI) for the time spent on Social Media based on the connections generated. #BeingSocial is cheaper than the PPC leads and building connections over public events. #SocialCEOs are becoming vital for business, when commitment to social media is driven from the top, then organizations are rewarded better. A leader who is not engaged in social media is certainly missing out on futuristic outlook. Would you let such strong potential competitive advantage go? How is your social media strategy going? We look forward to your remarks.